At this particular time we are only selling our 2 featured albums for sale. South LA Jazz Band® – Marching to Glory and Joey Jefferson Band – Mandela's South African Shuffle – None of the used LP's can be purchased.
Featured albums for sale!

South LA Jazz Band® – Marching to Glory

At home with some of the greatest musicians in the world since 1972.
Jazz Definitions
Progressive Jazz

– people like The Modern Jazz Quartet, Miles Davis The Master, Wynton Marsalis, Fats Navarro, etc.

Straight-ahead Jazz

– gets you high as a kite & makes your head feel so good. A personal musicians' feelings whom some of which can't read but instead feel the music and handle it like a kid with no parents but have the best of motherwits. I just love me some Gene Ammons, Dexter Gordon, Sonny Stitt doing the lead roads in straight-ahead soul, jazz, and more.

Swinging Jazz

– a continuity of rhythm with blues, a development of styling which is displayed by the likes of Duke Ellington, Count Basie, Stan Kenton, Tommy Dorsey, Glenn Miller and more. Good dance music, swing on.

Jazz Fusion

– a cross between urban R&B with soul links, a musician who combines gospel, jazz, blues, and rock mostly with an up-tempo beat such as Grover Washington, Lee Ritenour, Jeff Lorber, my favorite, George Benson, Herbie Hancock, Kenny Burrell, Kenny G., David Benoit, South LA Jazz Band®, Wes Montgomery and more…


Traditional Jazz

– these cats can play Jimmy Smith,Jack McDuff, Stanley Turrentine, Charles Earland, they can play anything and play it well.
Latin Jazz– helps creators, Dizzy Gillespie, Afro-cuban, Gato Barbieri, Charlie Palmieri, is a combination mixed with an African background, because of its original text, background, from their fore-parents, by way of Africa and Egypt. a strong musical message with a Brazilian bossa-nova twist.

Jazz Creators

– Charlie Parker, Lester Young, Fats Navarro, Charlie Christian, Dizzy Gillespie, John Coltrane, and Art Blakey. Plus a few more, Eric Dolphy, Horace Silver, Thelonious Monk, etc.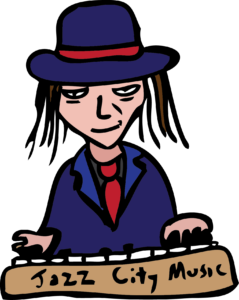 JazzCityMusic™ is a division of PacificAngelesIndustries, Inc. ©1972-2021 All Rights Reserved.